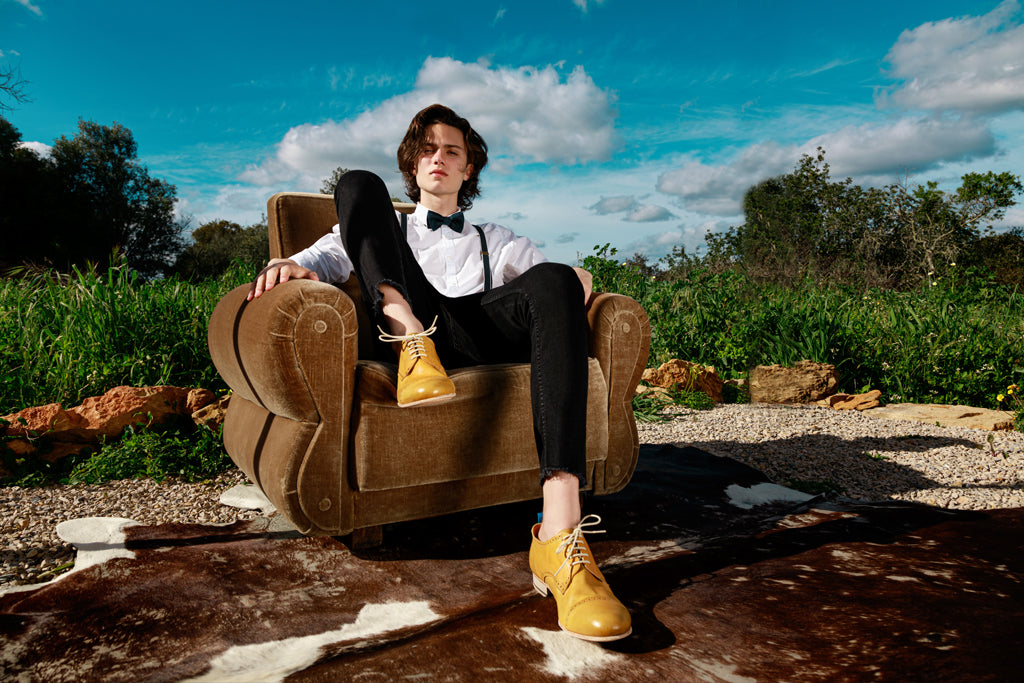 European Footwear Brands
European Footwear Brands: Rocking Fashion and Innovation! 
Looking to learn more about European footwear brands? So run here to check out the best! 
So, you guys are in love with shoes full of personality! Let's embark on a journey through the brands of Europe that are dominating the world of fashion and innovation. Get ready for us to get to know the big names that transform shoes into true works of art, combining tradition, creativity and quality. 
First of all, we have the Italian elegance, the rebellious British style, the Swedish functionality, and the Lusitanian charm of Portugal. Let's explore this fascinating universe of brands that not only dress our feet, but also leave us enchanted and inspired with every step we take. So, are you ready to discover the secrets of these shoes that are a pure style reference all over the world? So let 's go! 
European shoe brands 
Italian influence: Ferragamo and Prada 
These brands from Italy, first of all, are world top class when it comes to luxury footwear! Salvatore Ferragamo, founded in 1946, is a classic in the creation of very chic shoes. Prada, therefore,created in 1913, is all modern and loves to break the rules of style! 
French refinement: Christian Louboutin 
Furthermore, the French are experts in style, and Christian Louboutin is proof of that! High heels with red soles are pure luxury and glamor a statement piece.That is, incredible details in each pair! 
The Spanish Tradition: Manolo Blahnik and Camper 
Spain also has its space in this game! Manolo Blahnik is a master of sophisticated high heels, and Camper rocks with comfortable and super innovative designs! 
German Tech: Adidas 
Coming from Germany, therefore, we have the giant Adidas, which rocks the world of sports! High quality sneakers and always bringing innovations for professional and weekend athletes! 
British Innovation: Clarks and Dr. Martens 
Direct from the UK, we have Clarks, known for their shoes that are super comfortableand lasts forever! And Dr. Martens, symbol of rebellion since the 60's! Swedish functionality: From Sweden comes Ecco, an example of comfort and practicality. High quality leather and designs designed for everyday use. 
The Portuguese Charm: Pintta Shoes 
One of the great European footwear brands! 
Pintta Shoes is a European shoe brand! We are so attached to the value of passion, hard work and talent in fashion. This brand was created by Luís Contreiras, who is an experienced model and fashion consultant for more than two decades. 
What makes Pinta Shoes so cool is the personal and careful way that Contreiras designs each pair of shoes. The guy knows everything, from the sketch to the choice of materials,colors, textures, soles and everything else, he's on top of everything! And all this dedication,along with the passion and commitment of the founder, make the shoes unique and special. 
Another nice point about Pintta Shoes is that we are firm in national production. Contreiras chooses to encourage local and artisanal labor, strengthening the work of the Portuguese in this footwear sector. This not only guarantees the top quality of the shoes, but also supports Portugal's economy and fashion tradition. 
Therefore, Pintta Shoes is the combination of Contreiras knowledge of fashion with respect for Portuguese art traditions. The result is a shoe brand that is really cool, you know? We bring modern style together with classic craftsmanship. And Luís Contreiras says that this is where the secret of the brand lies. 
Conclusion: European Footwear Brands Rocking the World 
After this incredible journey through European footwear brands, we can say with certainty that they are perfect in terms of fashion and innovation. Each brand we met has a cool story, which shows the culture, tradition and vision of their countries of origin. It has the classic elegance of Italian shoes, the functionality of Sweden, the rebellious British style and the Lusitanian charm of Portugal. 
The passion, dedication and talent of these brands are so stamped on every pair of shoes they make, and that's why they are so special, man! They are not just ordinary shoes, they are true works of art that show the personality and style of those who wear them. They combine the traditional with innovation, and that's how they stand out in a market full of competition, winning over fans all over the world. 
So, if you want quality shoes, creative design and authenticity, European brands are the right choice, okay? They prove that fashion is not just a fad, but a style that never goes out of style