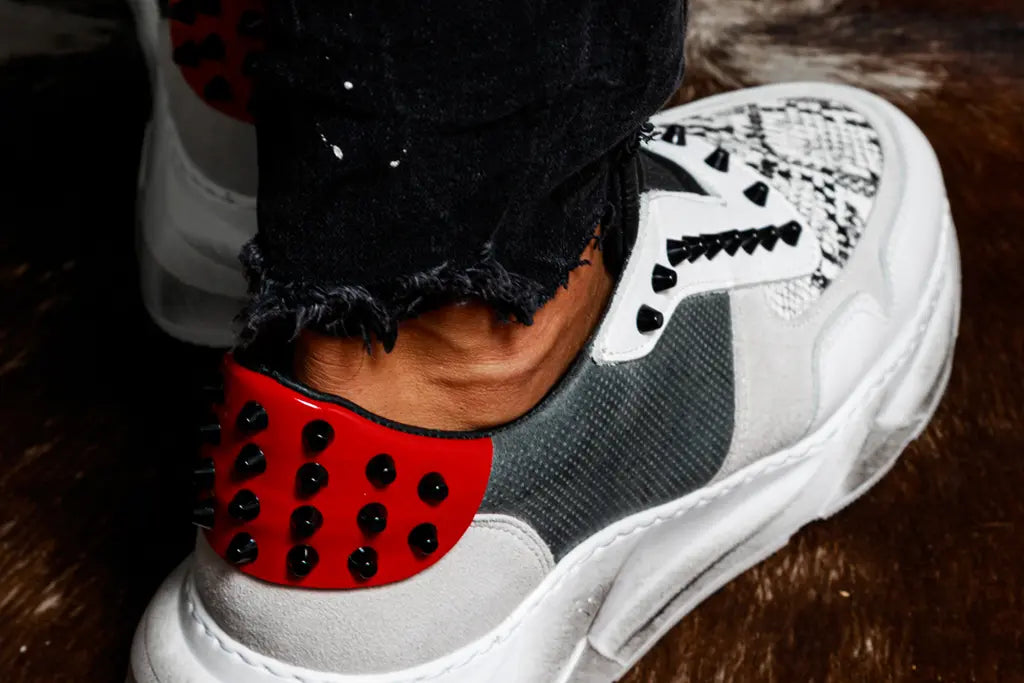 Sneakers shoes
Sneakers shoes: the meaning beyond practical use 
Sneakers have gone from being a simple performance shoe to becoming a true must-have in global fashion. That is, it's not just for running or playing sports, it's a way to show who you are and your style, it's beautiful! 
Tennis: from function to form 
In the beginning, sneakers were just to provide comfort and support during physical activities, but with time and fashion advancing, they gained an incredible variety of shapes, colors and functionality, going far beyond the initial expectations. 
Influence of the Big Brands 


First, giant brands like Nike, Adidas and Puma, among others, were responsible for making sneakers pump! Each has its own unique designs and styles, such as classic Stan Smith by Adidas or futuristic Air Jordans by Nike, and each pair of sneakers has its own unique story. 
Cultural Phenomenon 
Nowadays, the tennis market is simply a cultural phenomenon. In other words, there are people who are collectors and die-hard fans, the sneakerheads, willing to stand in line for hours to get the latest limited edition. It's a crazy mix of fashion, culture and sports, and believe me there are some limited edition pairs that are worth a fortune , we are talking about thousands of dollars! 
Art, Culture and Investment 
In addition, sneakers are also in the world of art and culture. Artists and designers team up with brands and create these limited editions with pure art and culture together. And look, they even became an investment, there are people buying rare pairs to resell later for a much higher price. 
More than Footwear 
Think about it, sneakers go far beyond being just shoes. Today, they also symbolize a lifestyle, they value individuality, creativity and personal expression. So you already know, it's not just a shoe, but a statement of who you are! 
Pintta Shoes: Uniting Craftsmanship, Passion and Design 
Pintta Shoes is a true show of experience and passion for fashion by our guy Luís Contreiras. He's in this business for over two decades, excelling as a model and fashion consultant, and his dedication is present at every stage of the creative and production process. The initial design, the choice of materials, colors, textures, soles and applications, is Luís who decides, with great care. 
The coolest thing here is that Pintta Shoes values the talent of the local workforce, those experienced craftsmen who make shoes with all the quality of the national market. It shows their commitment to honoring what´s ours, you know? 
And since Luís is super involved in everything, each piece is unique and special, there´s no equal! He started all this as a hobby, but look where he is, it became an amazing project. Pintta Shoes is the pure embodiment of his passion for fashion and a true tribute to the art of creating sensational shoes. 
The Essence of Authenticity in Pintta Shoes sneakers 


At Pintta Shoes, authenticity is the rule, you get it? Each pair of sneakers is unique and special, and that's not just talk, it's the truth! And best of all, we value the traditional way of doing things, giving that super emphasis to local labor. Luís Contreiras, with all his experience in fashion and incredible dedication, believes that the true secret of a shoe is in it´s construction, in its soul! 
This means that there is no economy in the details, the materials are handpicked and respectful of the shoemakers. Each Pintta sneaker is like a tribute to Portuguese craftsmanship and tradition, you know? It is a shoe that will give you a unique experience and superior quality. Pintta Shoes is a reflection of that cool vision that brings together art, fashion and tradition, all in the right measure! 
Pintta understands that each shoe is more than just a shoe, it is a celebration of a lifestyle, where fashion, art and culture blend and complement each other. And we know how to do it right, integrating our passion for design with the tradition of craftsmanship. It´s not just about creating shoes, it's about telling stories! Every detail is thought out with care and attention to quality, and each pair of sneakers is a unique and precious experience.