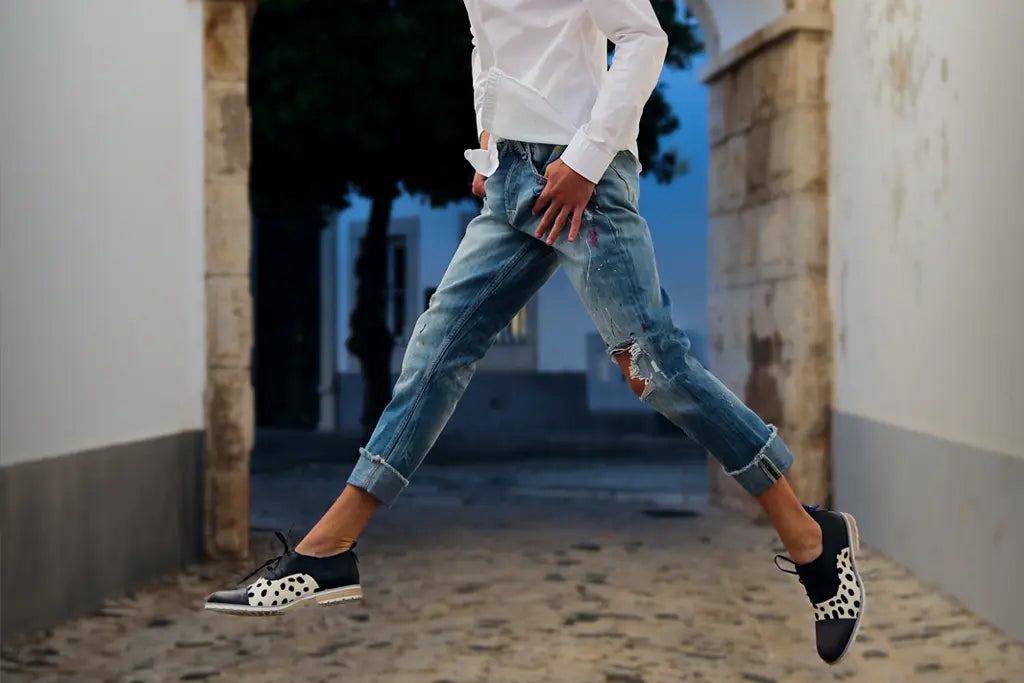 Trainer Shoes
Trainer Shoes: more than simple shoes!
Trainer Shoes: The beginning
Who would have guessed that the shoes that were initially conceived for sports would become an icon of the street style? Trainers evolved from simple sport accessories to statement pieces in fashion. Today, it doesn't matter where you are, you will certainly find someone wearing these amazing comfortable wonders.
Why this obsession with trainers?
It's very simple, trainers are the perfect mix between style and comfort. Who doesn't love to slide their feet in something that feels like a cloud, but way more stylish? It's the best of both worlds. And, honestly, why sacrifice style for comfort (or vice-versa) when you can have them both?


Style meets function 
Before, when someone was seen using trainers outside the gym many would say that they were committing a fashion crime,but, nowadays, things are completely different. Now trainers are adapted to the runways, parties and even corporate meetings. The versatility of these shoes are just undeniable.
The market transformation
The shoe industry understood the trend and did not stay behind. Designers all over the world are creating trainers that are not only comfortable, but also dazzling. We are talking about trainers full of jewels, with luxurious materials and even trainers that look like they belong in a museum.
The era of trainer personalization
Personalization becomes the watchword. People don't want just a simple pair of trainers, they want trainers that reflect their personalities, style and everyday humor. Here the magic of design and creativity makes a home.
Valuing artisan work and authenticity
In a world of mass production, quality handmade work gains emphasis. It's not just about a pair of shoes, but about owning a piece of art that tells history. And talking about history and the love for fashion…
Pintta has history with Trainers
With over 20 years of experience in the fashion industry, as a model and fashion consultant, Luís Contreiras stands out not just because of his experience but also because of his burning passion that he passed on to each one of the pieces he creates. Every shoe at Pintta it's not only a simple shoe it's Luís vision materialized.
From the sketch to the meticulous choice of materials, colors and textures. soles and applications, everything it's orchestrated by Luís. The most impressive detail? He always chooses the national workforce, like that he praises what is Portuguese and values the art and mastery of the artisanal shoe manufacturing market.
This dedication and love make every shoe at Pintta in a unique and special piece. What started as a personal wish of Luís, to create something unique for himself, became this amazing project that is Pintta.
Luís confesses his secret 
In the heart of every Pintta Shoe piece there is the soul of an artist that lives and breathes fashion. Maybe that is the secret behind Pintta success, an unshakable passion for the art of creating shoes that are not only functional, but also a soul expression.
Conclusion 
Trainers are here to stay! Being the perfect balance between style and comfort, they conquered everyone's heart. And with brands as Pintta, led by Luís Contreiras, we can expect even more innovation and amazing surprises in the trainer world.
Trainers and Pintta : Synergy between style and comfort 
When we think about design, personalization and dedication Pintta shoes stand out.
In a time that many companies look for mass production Pintta stand out for valuing national artisanal work . This decision it's about celebrating and preserving the tradition and art of shoemaking . This is one of the aspects that makes Pintta trainers so special, they are a mix of a global tendency and Portuguese artisanal art.
In the heart of a trainer it is the idea of personal expression, and Pintta elevates that. Whoever uses a Pintta trainer will be not only using a modern and comfortable shoe, it will be wearing the passion, dedication and vision of Luís Contreiras.
While trainers define an era of fashion and functionality, Pintta defines what it means creating something with passion and purpose. Together, Pintta represents the future of fashion : innovation, authenticity, and, on top of everything, something personal.