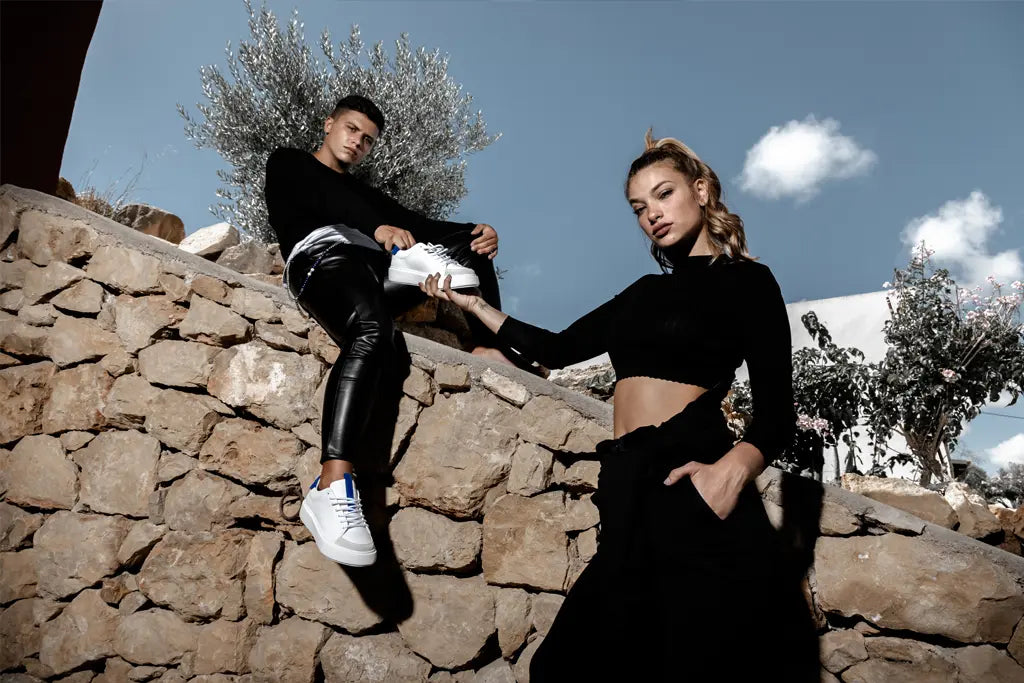 What shoes are made in Europe?
What shoes are made in Europe? Know now!
Which shoes are made in Europe?
Imagine stepping on historical European soil with a pair of genuine europea shoes, amazing isn't it? Let's deep dive into the world of European shoes and understand which ones are made there.
Made in Italy : luxury and design 
When we think about European shoes, Italy is probably one of the first countries that comes to our heads, ad weare right, iconic brands, such as Guci, Prada and Ferragamo come from Italy. The Italian artisans ability it's unequaled. They use high quality materials and show an innovative design, because of that, if you look for luxury, you will find it in italian shoes.
Portugal : A surprise in the world of shoes
Let's talk about Portugal now. It might surprise a few but this little country rocks in shoe making production. They use old ways to make very modern shoes. The Portuguese people know how to make an iconic leather shoe, so if you want something original, take a look at the Portuguese shoes. They are what we call  "show de bola".
A good example of the Portuguese quality it's Pintta Shoes. The boss is Luís Contreiras, the founder and designer of the brand, a guy that has over 20 years of experience in fashion, as a model and faso consultant. His passion for fashion is in every little detail of Pitta shoes. From the first sketch until the choice of the materials, colors, textures, soles and ornaments.Every detail is personally chosen by Luís.
Pintta Shoes it's one of these brands that makes a big deal out of valuing what is local, using the guys in Portugal who know everything about making shoes. This commitment in each step of production makes every Pintta shoe unique and special. For Luís, the secret for Pintta success is in this commitment to each step of the creative process, which ends up in an amazing project. Everything started because he wanted something unique for himself.
Spain : Comfort and style walking hand in hand
When asking "Which shoes were made in Europe" ? Spain is famous for their comfortable shoes. Brands like Camper are known for their innovations in the design. And who can't forget the spanish spradilles? Spain produces a diverse range of shoes that combine comfort and style. So, if you are looking for comfort, you should try a pair of Spanish shoes.
France : Elegance and sophistication
Finally, we have France, a country known for their elegance in the fashion world. French shoes are the synonym for sophistication. Brands like Christian Louboutin and Chanel are the living proof of that. France is the place for those who are looking for shoes that are both elegant and full of style.
United Kingdom : tradition and sturdiness 
We can't talk about european shoes without mentioning the UK, they are known for their sturdiness and tradition, some british brands like Dr. Martens and Church's are worldly known. So, you are looking for durability, British shoes are the right choice.
Germany : lightness and comfort 
Germany, known for their precision and technology, doesn't stay behind in the shoe production world. German brands, like Adidas and Birkenstock are famous for their comfort and the high technology. So, if you are looking for comfort mixed with tech, the german shoes are the ideal choice.
Greece : lightness and simplicity 
Opposed to Germany, Greece is known for their simple and light shoes, perfect for the high weather in the mediterranean. Greek sandals are famous for their durability and comfort . So, if you are looking for something light and durable, greeks shoes are the ones for you.
Conclusion about the shoes made in Europe
Each European nation has something to offer to the shoe world . Regardless of your taste or necessity, it's highly probable that you will find the ideal show for you someplace in Europe. It's amazing how a shoe can say so much about a country culture and identity.
When you buy a European shoe, you are not just taking a pair of shoes, but a piece of history, culture and identity . And, look, when choosing a shoe, don't think just about style ee confort, but also, how that choice impacts the environment and the people. In the end, true beauty comes from making choices not just for us, but for everybody.
Now you know everything you need to venture out in the European shoe world. So, what about putting on a European shoe and exploring the world with style and conscience? It 's your choice!