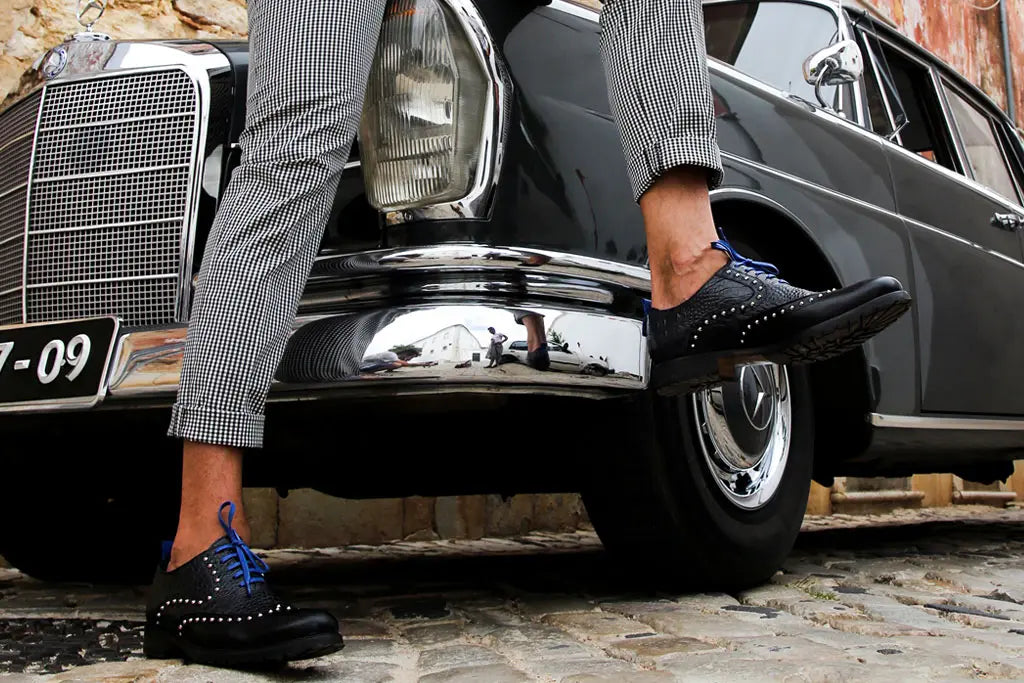 Fashion Shoes
Fashion Shoes : What is behind every shoe ?
Do you know the saying that says that a woman can conquer the world with the right pair of shoes? That's not an exaggeration. Shoes are not only protection for the feet or a visual complement. They are a declaration of style, personality and a reflection of the soul of who creates them. 
The shoes impact on the fashion world
At every fashion season, designers from all over the world look to innovate, bringing trends that revolutionize the market. But what makes a shoe really fashionable? Would it be the design? The combination between colors and textures? Or the history behind every pair?
The journey of a fashion shoe
Imagine that every shoe it's like a book, with its own narrative. Start with an idea, a sketch. Then comes the selection of the materials, colors, textures, until we get to the final product that conquers hearts (and feets) all around the world. The magic is in each detail, this is where the real artists stand out.
Besides the aesthetic : The essence of a good shoe
Of course we all love a beautiful pair of shoes that stands out in any good instagram post. But a true fashion shoe goes beyond aesthetic, it's about how he makes the wearer feel comfortable? Powerful? Elegant? All that counts, and it's there that the passion and dedication comes into play.
The trendness of artisanal shoes
A trend that has been gaining space in the fashion world it's the valorization of artisanal work. Handmade shoes, with high quality materials, bring a unique essence, valuing the time and talent that tht to create a shoe.
The history behind Pintta
With over 20 years of experience in the fashion industry, Luís it's not only someone who understands trends, he is a real fashion lover. From the meticulous selection of materials, colors, textures and even soles and applications, everything has Luís personal touch.


The value of artisanal work
Pintta stands out not only because of the exclusive designs, but also because of the value they put in the national work. In a world ruled by mass production, choosing the handwork of professionals with experience it's without a doubt, a differential. 
More than a shoe : a work of art 
Luís complete surrender to each step of the shoe making process makes every pair at Pintta a true work of art. Like that, something that started as a personal desire to create something unique and special for himself became this magnificent project that 's gaining lots of fans.
In his own words, Luís confesses that the secret for the brand's success it's the constant passion and dedication to innovation that makes Pintta a reference in the fashion shoes industry.
And you? Already own a pair of Pintta shoes? If not, what are you waiting for? Dive into the world of fashion and find out what really makes a shoe be special, because, in the end, fashion it's more than following trends, it's about fashion, dedication and love for what you do.
Conclusion : Why Pintta dominates 
Pintta Shoes represents all of this and many more. Through Luís passion and vision, the brand made the art of shoe making into something more than just fashion, transforming it into an expression of identity. Luís' compromise with excellence and authenticity reflects in each pair that leaves his workshop. That's why, when we talk about shoes that are truly fashion´, Pintta it's always a step ahead.
Shoes that resonate 
In Conclusion, fashion, in its essence it's an extension of who we are, and while trends come and go, brands like Pintta stay, reminding us of the power of a well made shoe, of the passion behind each design and the magic that happens when we find the perfect pair of shoes. In a world full of choices, choose what really resonates with your soul, like that, you will, certainly, find resonance in every step you walk with Pintta.